---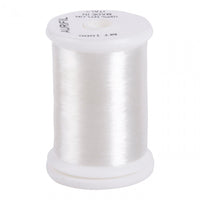 All purpose thread that is lightweight and strong. Won't leave a rough finger feel on machine appliqué finish. Great for invisible zigzag machine appliqué. Aurifil's Monofilament Thread is 100% Nylon.
It is it the perfect choice for use whenever the stitches need to camouflage with the background of a project.
Monofilament can be used as a top thread for many quilting techniques such as stitch-in-the-ditch, invisible machine applique, outlining, shaping and echoing applique, couching, and of course free motion quilting.
The smoothness of the thread also makes it perfect for needle turn applique or EPP.
Needle Recommendations:
90/14 or 100/16 Universal, Microtex/Sharp, or Embroidery Needle (40wt, 50wt, or hand-wound monofilament in the bobbin)
4.0 Longarm Needle (40wt, 50wt, or hand-wound monofilament in the bobbin)